Sir Brian
A Busy Summer (AND A HALLOWEEN VIDEO!)
Believe it or not, I am alive, and extremely busy! I had really hoped to put up a bunch of new stuff during summer, but I have been incredibly busy doing things! Doing things! Me! Can you imagine?
Me "doing things." (with Kitten Kuro)
I have seen a bit of an uptick in sessions recently, and have had all kinds of things happen, making for an exciting summer (both good and bad things). But today is the first of October, and we are entering My favorite month (besides My incredibly narcissistic birthday month). Also, the summer rollercoaster is mostly over, so I can start being a bit more on top of stuff around here!
As you may know if you have followed Me through past iterations of this blog, this marks My end-of-year period, where I try some new content and new things to implement next year. Be prepared to see oodles of new stuff, and probably some site changes as well. I'll be posting My EOY class schedule on social media, like I did last year shortly, focusing on the last three months of the year. More interestingly though, I am going to start releasing some themed videos, starting with Halloween! These will be little short 3-5m clips with little context. They will have 3 GIFs, 5-8 free stills, and a mini 25-second preview. Consider them kinky greeting cards?
So! I found this awesome little book in My occult library (yes, I have one of those), and it was full of interesting rituals and incantations. The one I found most interesting summoned a demon from the bowels of Hell itself, a mindless beast whose sole desire is to fuck anything it comes in contact with, damned to never be satiated.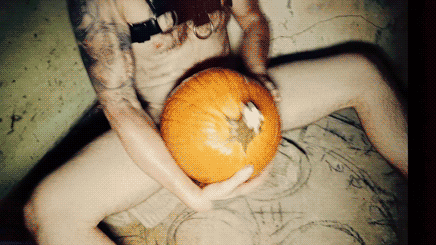 Of course I'd think it would make a good pet, and I have a perfectly serviceable bathroom hidden in My basement. I'm sure I could keep it contained in there until I see it fit to unleash him upon the world. He's quite harmless when contained inside his summoning circle. But since it's the season and all, I figured I could let him have some sort of relief in the form of a hollowed pumpkin.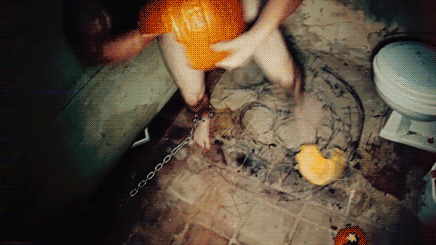 I don't think he was particularly pleased with the offering, because after an immediate pump-and-dump, he already has his eyes set on another target. Thank whatever dark power keeps him in his circle for now. And the chains. Those are pretty important too.
The full clips is available now from any of My premium services on My Videos page! I am having some issues with My PornHub/ModelHub accounts (as you can see, those links are currently broken, but will be back soon). You can still find this clip on My xHamster Premium, iWantClips, and of course, Clips4Sale (which is still the primary place for My stuff!). I'm getting to the other platforms. Trust. You can still catch the preview video on PornHub, or embedded right below!
As you can see, the GIFs are already all here for you! As far as the photos... never fear! The gallery is right here (and on My FetLife page, but you know that):
#bdsm #bdsmcommunity #kink #kinklife #kinkinphilly #fetish #phillysir #philly #philadelphia
#queersofinstagram #queersofphilly #phillyqueer #queer #maledom #prodom #dungeon #dominant #sadist #modelhub #pornhub #niteflirt #iwantclips #manyvids #customclips #clips4sale #contentcreator #adultfilm #fetishfilm #horror #horrorporn #pumpkinfucker #halloweenporn